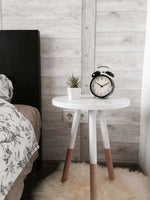 Today is my first official day back in the office after 3 amazing weeks lazing on some of Australia's best beaches (but I'll tell you all about that goodness another day).  For now, I am sharing with you some clever ways to wake up yourself up in the morning feeling fresh and ready to take on the day, because I struggled hard core this morning. 
Inspired by morning routines of highly successful people, I spoke to Sonia from Natural New Age Mum who blogs about raising a whole and healthy family and here we share our top tips for waking up in the morning...minus the caffeine! 
11 ways to wake up in the morning..without coffee..
1. You woke up - hallelujah! Spend a moment just giving thanks and being grateful that you are here on this earth. 
2. Do not touch the snooze button - Just get up and moving!
3. Open the curtains, turn on the light, get out in the sun - this gets your natural body clock switched on and the cue for your hormones to wake up!

4. Hot lemon water - a glass of warm filtered water with a good squeeze of lemon juice every morning is fab for digestion and your skin health.
5. Salute the sun - I've been so fortunate over the past few weeks to practice yoga in some very radical locations.. in Byron Bay with the sound of the ocean, in the Hinterland of the Sunshine Coast and just yesterday with the sun rising on Sorrento Beach, on the Mornington Peninsula. Absolute bliss I tell you! 

This yoga sequence (sun salutation) is incredibly invigorating and refreshing in the morning. Here is a simple modified version you can do at home. 

6. Massage your ears - all over. When you rub yours ears, you stimulate lots of energy points that run through the ears and then into your body.

7. Eat breakfast - Start you morning off right by whipping up a skin-healthy breakfast.   You might like to try this killer breakfast by Eat Drink Paleo which is packed with beauty foods that protect your skin to keep it looking fresh and radiant. 
8. Dry Skin Brush -  guaranteed to leave you feeling alive!  It gets your circulation pumping and the blood flowing. See my post on how to do it here 

9. Peppermint Steam - Before your turn the water on put one or two drops of peppermint essential oil at the base of your shower. The beautiful aroma will waft up as you shower and give you a refreshing blast! 

10. Cleanse properly - cleansing in the morning will remove dirt, oil and bacteria from your skin that may cause breakouts. It also helps to get blood circulating to your face which in turn rejuvenates your skin to a healthy glow.  You can read more about cleansing here 
11. Set your intentions for the day - while you are in the shower, just affirm to yourself that today will be a good day. A positive attitude first thing will put a spring in your step! 
So there your have it, 11 ways to wake up, get invigorated and energised in the morning..all without coffee.
Let's face it, we probably won't manage to do all of this everyday, but hopefully there are some tips in here for you to introduce into your home to help start your day inspired and calm.

Thanks for reading, let me know what you think and feel free to forward this to a friend if you think they would enjoy reading this also, 
Jx