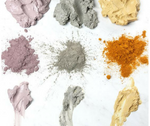 Modern day beauty lovers want a quick solution to doing a mask, because life is busy, we're juggling more than we ever have, we're more frazzled than ever - yet are we any happier??
We believe modern day women need need to slow right down, to focus on one thing at a time and, most importantly, to relish the importance of doing something for themselves that makes them feel good. And this is why we formulated our Australian Facial Clay Mask range - because we want women to SLOW down and enjoy the ritual of giving 10 minutes to themselves to just be...
When was the last time you did something that made you feel truly happy, just for yourself..not to please anyone else??
Photo by mauro mora 
But there is another reason why clay mask is the ancestor of all facial masks.  Clay mask is uniquely the only type of facial mask that can be beneficial for everyone—regardless of gender, age, skin type, season, or type of skin trouble—because there isn't simply one type of clay out there.  The effects clay can have on your skin will differ based on the types of minerals it is composed of and its place of origin.  Pink clay, green clay… there are a variety of clays to choose from depending on your skin type.
Here are the 5 Reasons you need a Clay Mask
Deep Cleansing
Clay absorbs excess sebum (oil) on the surface of the skin while latching onto dead skin cells to remove them naturally.  Green clay is recommended for oily/acne-prone skin while pink clay is more effective for ageing/sensitive skin.  
Soothing

When it comes to masks that are being marketed as "great for sensitive skin", it is mostly likely distributing oil to dry and weakened skin to create a protective barrier.  Clay Masks have the ability to soothe reddened and /  or inflamed skin.
Moisturizing
Some people think that clay masks dry out the skin.  In reality, it can actually increase the skin's moisture level.  Rather than completely plucking out sebum and oil from clogged pores, clay masks tend to gently lift away sebum and dead skin cells that are preventing moisture from being absorbed properly, so it's safe for dry or sensitive skin types to use as well.
When a clay mask is applied on the skin, it delivers moisture deep into the skin but it also creates a barrier that will lock in that moisture and prevent it from escaping.  If you follow up with your favourite moisturiser after the using the mask, you'll see that your skin looks far better hydrated.   If you want a long-lasting effect, try putting on a clay mask.
Brightening
Oily skin types tend to suffer from dead skin cells and sebum that make their skin appear darker, especially during the summer.  Your capillaries subtly widen, causing discoloration in the skin.  Clay masks help to tighten these capillaries while removing excess sebum and dead skin cells and adding more moisture, so the skin tone naturally grows brighter.  If you apply a clay mask for 10 minutes before your morning makeup, you can prevent your complexion from getting dull throughout the day.
Pore Tightening, Lifting
Upon applying a clay mask, you will feel your face tightening within 5 minutes.  This is because as the clay starts to dry, the skin that it has attached itself onto also tightens with it.  As the skin pulls together, your circulation improves and excess waste comes out and gets absorbed by the clay.  As a result, ageing skin will see that the clay mask is helping to lift their skin to redefine their facial lines while oily skin types will notice that their pores have tightened.
You can experience the best clay mask treatment with Pink Clay & Hibiscus Renew Mask for Dry / Mature / Sensitive Skin containing natures answer to Botox and other ingredients to brighten and fresh up your skin.  Whilst Green Clay & Gingko Detox Mask is for Oily / Combination Skin.  Containing activated charcoal and Gingko this clay mask effectively removes excess sebum and impurities with a deep cleansing into your pores and controls excessive oil production to leave you with smooth and moisturised skin.
Still thinking, "But I'm too lazy/have no time for a wash-off type mask"?  Then, think again..
Yay for Clay!
Jacqueline x