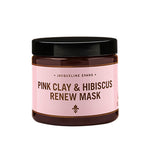 It's been my dream since day dot of this business to produce a range of face masks.  Mainly because I think they work so well for brightening and cleansing the skin, but also because taking the time to apply a mask and waiting the 10 or so minutes for it to dry is, to me, a wonderful form of self care.  
I've tried for years to formulate a series of wet clay masks but always arrived at the same issue...preservatives!  You see, clay is actually alive and requires fairly full on preservatives to keep it fresh, and we didn't want to compromise on ingredients. And BOOM, a fair few months back, I realised I was going around in circles, and the perfect formulas were right under my nose!  
We've used the best Australian clays and keep it in powder form so there is no need for preservatives, and then we add some powerful herbal extracts to unleash your healthiest glow! 
Introducing our two new high performing face products - 
Green Clay & Gingko Detox Face Mask  - use once a week for oily / combination skin (and a few times a week for those hormonal breakout times!)
and
Pink Clay & Hibiscus Renew Mask  - use once to twice a week for dry / mature skin. For skin so fresh you'll  like you have slept for 8 hours. 
Gift the gift of The Ritual - pre-order your Face Mask now for the special reduced price of $35.95. Launching November 22nd 2017.