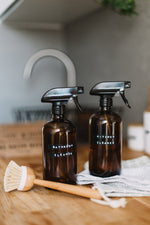 I love a fresh smelling room. And those of you that know me, know about my addiction to candles,  but I've burned all the candles (at both ends - pun intended), so I've turned to making my own room spray (because #freshair).
You can easily make your own room spray to freshen up your home. No doubt, most of us have some essential oils lurking somewhere in the house. Well, dig them out and find your favourite scent. 
The best homemade room spray is simple: water, vodka, and essential oils.
Alcohol is one extremely popular commodity right now. Not only in our glasses (cue icy cold G&T's) but also because it's the main ingredient in hand sanitiser.  It's insanely versatile and known to kill bacteria (when used in the right strength).
Vodka is a great cleaner because:
It

 

leaves no scent

 

when used in natural cleaners.
It

 

leaves no residue

 

(like the baking soda found in some homemade DIY sprays).
It is

 

antibacterial, and it's a natural

 

deodoriser.
Alcohol

 

emulsifies essential oils

 

into an evenly diluted  spray that does not need shaking.
Cheap

 

generic vodka cleans as well as more expensive brands.
HOMEMADE AIR FRESHENER
RECIPE
Mix together in a (clean) spray bottle:
1 cup

 distilled water

½ cup  vodka (use a bottom shelf, cheap version darling)
10 drops essential oil of your choice*
Shake to combine
*I love the citrus oils, like lemon, lime and orange because they smell FRESH. But use what ever you have (as long as you like the smell).
**Give the bottle a good shake before spraying. Natural homemade air freshener sprays won't linger in your home as long as commercial chemical-sprays, but I personally don't mind spraying a bit more often if it means I'm avoiding the toxins.