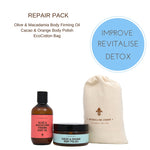 One of the most important things you can do for your skin this Summer is exfoliate! Exfoliating gives your skin that smooth, soft and even feel. It's really easy to do in the shower, and I promise you, you will notice the difference immediately.  

Your body sheds skin cells at an amazing rate every hour of every day. In fact, as you are reading this email, your skin is shedding about 30,000 - 40,000 dead skin cells each hour. If you don't get rid of them, they just sit on your skin making it appear dull and lacklustre. No matter how much moisturiser you slather on, without exfoliation, your skin just will not glow. 

Our Cacao & Orange Body Polish is a body exfoliant, containing coffee and cacao, which work hard together to rid the body of toxins, get rid of those dead skin cells, leaving the skin soft and supple. 

The beauty benefits to this scrub are worth noting. Coffee is loaded with antioxidants, which help prevent premature skin ageing. The combination of our carefully selected ingredients help to give skin a more even tone. 
 
Get better Fake Tan ! 
Exfoliating your skin is essential if you use spray tans or tanning creams / lotions.  It helps the skin absorb the fake tan better, and also provides a smoother, cleaner canvas, allowing for a more even longer lasting tan overall!
Here's how you exfoliate: 
+ Wet your skin and then turn off the shower or jump out of the bath
+ Starting at your feet, apply the scrub and rub into the skin in circles, spend more time on stretch marks or areas with cellulite. Use a pressure that feels firm (but not too hard)
+ Once its been applied all over, (if you can) leave it on your skin for 5-10 mins to absorb
+ Rinse off in shower
+ We suggest to get your body glowing, to exfoliate at least 3 times per week 
Exfoliating is the easiest thing you can do to get glowing skin. Order yourshere in time for Summer. 

Thanks for reading,
Jx