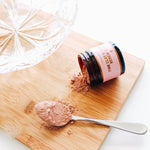 Renew & Brighten with Pink Clay 
The original treatment mask for stressed, dull and sensitive skin.
Containing a powerful blend of Alpha-Hydroxy-Acid packed hibiscus for increased cell turnover, mineral rich Australian Pink Clay to detoxify and brighten, combined with complexion soothing Marshmallow and Calendula extracts for ultimate hydration.
Australian Pink Clay is a gentle, soothing ingredient composed from a mix of incredibly natural minerals including quartz and kaolin. Used every other day, this unique treatment defends the skin against the pollutants of oil, dirt and toxins, cleansing and revitalising the epidermis to bring you bright, beautiful skin.
THE RITUAL
Blend one tablespoon with equal parts water or Damask Rose Hydrating Mist and mix to a smooth paste. Apply an even layer over face and neck. Leave for 15 minutes then rinse off with warm water. Finish off with your favourite moisturiser. For best results use once or twice weekly.
 

Get yours here