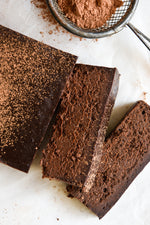 Four Ingredient Chocolate Fudge Cake
(Gluten-free)
This is a winner and uses ingredients you probably already have in the pantry.  So easy the kids can make it.
INGREDIENTS
400 grams dark chocolate, roughly broken into pieces*
1 cup of full fat coconut milk
1/3 cup maple syrup or rice malt syrup
4 eggs, bring to room temperature
METHOD
Preheat your oven to 150°C 
Grease and line a loaf tin. (Mine measures 19.5cm x 9.5cm)
Bring a kettle full of water to the boil.
Place the chocolate, coconut milk and maple syrup into a medium sized saucepan and continually stir over low heat until the chocolate has melted and the ingredients are well combined. Remove from the heat and set aside.
Whisk the eggs until the yolk and white are well combined.  Stir the chocolate mixture into the egg mixture until well combined.
Pour the mixture into you prepared loaf tin. Place the loaf tin in a deep roasting dish. Pour the hot water into the roasting dish until the water level is half way up the sides of the loaf tin.
Bake for one hour.
Leave to cool to room temperature then place in the fridge overnight. Room from the tin. Slice. Serve. Enjoy!
*I use 70% dark chocolate for this cake.
Recipe adapted from Wholefood Simply