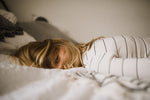 Magnesium is involved in over 300 reactions in the body, helping to support and maintain blood sugar levels, blood pressure, energy production, protein synthesis, and more.
A magnesium deficiency often goes unnoticed due to seemingly unrelated symptoms and the difficulty of properly testing magnesium levels, but if you suffer chronically from two or more of these symptoms, it's a clue that further testing might be needed. 
Check out these 11 commons signs of
 

magnesium deficiency

 

to see if they sound familiar:

Fatigue and exhaustion are generalised symptoms. You may attribute your tiredness to stress, poor sleep, or a host of other reasons and not realise just how much nutrition is playing a role. There is solid research on chronic fatigue syndrome and magnesium levels. This is because magnesium is required for the production of energy in our cells, if the body has inadequate access to magnesium, then energy production suffers, leaving you prone to fatigue.

Although inflammation is a necessary part of immune function and wound healing, chronic inflammation underlies many chronic conditions. Inflammation can feel like that overall feeling of blergh or feeling lousy, hot and swollen localised areas on the body, or  show up as an inflammatory diagnosis. 

Magnesium plays a key role in managing the body's normal inflammatory response. When magnesium intake is low, inflammatory biomarkers such as high-sensitivity c-reactive protein (hs-CRP), interleukin-6, and fibrinogen are significantly affected.  
Blood sugar spikes and prediabetes
Although blood sugar (glucose) levels are no doubt heavily influenced by what you eat and how much energy you expend, surprisingly they are also influenced by magnesium levels. This is because magnesium assists the body in glucose and insulin metabolism.
A large six-year study found that low serum magnesium levels were associated with insulin resistance and risk of prediabetes.
Restless leg syndrome and leg cramps
It's no secret the quality of life is affected by daily struggles with social stress, fear, and apprehension. Maintaining normal magnesium levels could help manage stress due to magnesium's beneficial interaction with the brain.
Magnesium is important for the regulation of the "feel-good" neurotransmitters dopamine and serotonin as well as the stress response. In other words, low brain magnesium means serotonin levels are reduced, which can present as mood swings. Studies back this up, showing that low levels of magnesium intake are associated with mood disorders.
Migraines are the sixth-most disabling illness worldwide, causing hours and days of recurring pain, sensitivity to light and sound, and even nausea and vomiting.  From slight passing tension to intense migraines, headaches can indicate low magnesium levels.  This is because magnesium is essential for muscle relaxation and cellular function particularly for its ability to regulate calcium levels within nerve cells. In addition, poor calcium regulation in nerve cells may produce numbness or tingling throughout the body.
Although the mechanisms aren't fully understood, it is known that maintaining a normal magnesium level helps preserve the electrical function of brain neurons.
Insomnia
Again, short or long-term stress from your work or personal life can keep you awake at night. But if all your better sleep techniques have failed, take a look at your magnesium level. Magnesium is involved in producing a neurotransmitter called GABA which relaxes the body for sleep. Without magnesium (and without GABA), insomnia can result.
Constipation & Irregularity
Digestive health is a major indicator of overall health, so interruptions in your regularity should never be ignored. Constipation specifically can be a manifestation of magnesium deficiency because magnesium aids in bowel movement.
How to get sufficient magnesium.
Most people need between 300 and 420 mg of magnesium per day, with men on the higher end. Here is the recommended dietary intake of magnesium for adults:
Men, 19-30 years: 400 mg
Women, 19-30 years: 310 mg 
Men, 31+ years: 420 mg
Women, 31+ years: 320 mg
Pregnant women: 350-400 mg
Breastfeeding women: 310-360 mg
Several foods are exceptional sources of magnesium, but especially dark leafy greens, nuts, seeds, legumes, and whole grains. Here are a few magnesium powerhouse foods that deserve to become staples in your diet: 
Pumpkin seeds (raw), ¼ cup = 191 mg
Spinach or Swiss chard (raw), 1 cup = 150-156 mg
Black beans (cooked), 1 cup = 120 mg
Quinoa (cooked), ¾ cup = 118 mg
Cashews (raw), ¼ cup = 116 mg
Sesame or sunflower seeds, ¼ cup = 113-126 mg
Magnesium is also available as a nutritional supplement in tablet and powder form, and I'm seeing it now in creams and sprays (because we know what we absorb what we put onto the skin).  Not all magnesiums are created equal and you really need to consult with your health professional before supplementing. 
For more information, please speak to your health professional, or contact me for a consultation here. 
References
Axe, J. (n.d.) Top 10 magnesium rich foods plus proven benefits. Retrieved from https://draxe.com/magnesium-deficient-top-10-magnesium-rich-foods-must-eating/
Jockers, D. (n.d.). 10 signs of magnesium deficiency. Retrieved from https://drjockers.com/10-signs-magnesium-deficiency/
Larsson SC, Orsini N, Wolk A. Dietary magnesium intake and risk of stroke: a meta-analysis of prospective studies. Am J Clin Nutr 2012;95: 362-6.
Sun-Edelstein C, Mauskop A. Role of magnesium in the pathogenesis and treatment of migraine. Expert Rev Neurother 2009;9: 369–79