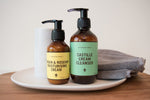 Last year we asked you what you wanted.
We listened very carefully.
You told us you want the option of larger sizes of your favourite products.
You told us you want a pump lid on your favourite products. 

We are so thrilled to deliver to you our newest additions in our skin care range -  


Why the pump? You ask
We live in an era where innovations in skin care have led to 
formulations
 that can 
dramatically
 improve your skin, making it look less wrinkled, younger, healthier and glowing. The primary ingredients responsible for these advancements need to be treated with absolute respect, so that the benefits are passed onto your skin.
The most beneficial ingredients are often the least stable
! To maintain the freshness and efficacy of our 
ingredients
 we choose to use dark amber glass where possible (and when that's not possible we use recyclable PET plastic).  In addition to that, the new pump lid provides further protection and 
stability
 of the ingredients. 
Same formula, just bigger sizes
 
Both the jar and the new pumps allow your skin to reap the benefits of the beneficial ingredients inside the packaging.  But now you get to choose which method you prefer to dispense your favourite products - jar or pump!