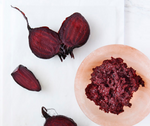 Roasted Beetroot Hummus
I'm totally in love with the vibrant pink colour of this roasted beetroot hummus! Doesn't it look pretty?
Roasted beetroots, with their subtle sweetness, add a delicious twist to the traditional hummus - plus you'll get all those skin loving nutrients from this perfect Autumn vegetable. 
I love it as a snack with veggies, crackers, or as a spread on wraps (*paired with avo it is next level*) .
The recipe is very easy but roasting beetroots takes some time, approximately 1 to 2 hours (it depends on the size of your beets). Once they are cooked, this hummus comes together very quickly. Just toss all the ingredients in the food processor and blend until it's creamy.
If you don't want to wait for 2 hours feel free to use tinned whole beets. 
Hummus can be stored in an airtight container in the fridge for up to 1 week.
If you're a hummus fan you've got to try this recipe. It's simple, healthy and it will look impressive to bring to any party or platter! 
Ingredients:
4 beetroots, washed
¼ cup cold pressed extra virgin olive oil
1 clove garlic, finely diced
½ fresh chilli, finely sliced
1 tsp roasted cumin seeds
1 tsp roasted coriander seeds
⅓ cup fresh coriander, chopped finely
1 tsp sea salt or more to taste
Method:
Preheat oven to 200 degrees celsius. Toss beetroots in a little bit of cold pressed olive oil and a pinch of sea salt and bake for about an hour or until tender
Place the beetroot into the food processor with the cumin, coriander, salt, garlic, and chilli. Drizzle in half the olive oil and pulse until well combined. Add in the rest of the olive oil gradually to reach your desired consistency.
Enjoy x