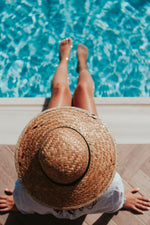 The warm weather has finally arrived, it's only natural to want to get out and enjoy the sun's glorious rays. But as much as we love the look of sun-kissed skin, it's also important to protect your skin to keep it looking healthy and youthful.
Take into consideration the following skin care tips and you will be well on your way to enjoying all that summer has to offer.
1. Make sun protection part of your daily routine. It's one of the best long-term investments you'll ever make. UVA rays are strong year-round and UVB rays are more intense during mid-day, spring and summer. Wear a sunscreen on your face year-round, preferably with an SPF of 15 or higher. Choose a
vitamin-enriched
lotion that won't clog pores.
2. It's important to remember another important step in keeping your skin in tip-top shape: exfoliating. Whether it's before you apply a sunless tanner or after you've been dipping your toes in the pool, exfoliating helps produce a smoother surface and keeps your skin looking toned. Removing dead skin cells from the top layer of facial skin with a
scrub cleanser
not only gives a smooth surface for applying a sunless tanner, but also enhances the penetration of moisturisers.
3. Follow your shower or bath with application of a body cream, especially after you exfoliate. You can check out our range of luxurious all over body creams
here. 
4. Finally, don't forget toning.
Toners
are an excellent way to remove residual dead skin cells, dirt, oil and makeup. In hot weather, try keeping a bottle of toner, like this
Hydrating Damask Rose Face Mist
in your refrigerator and apply to your neck, inside your wrists and inner ankles for an immediate cooling effect.