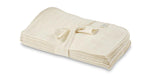 MUSLINS CLOTHS – A SIMPLE WAY TO SUPERCHARGE YOUR SKINCARE REGIME
Introducing a simple way to supercharge your skin care regime – the muslin cloth. We have carefully sourced our muslin cloths from 100% Soil Association certified organic cotton. The idea behind the muslin face cloth is that it helps to open the pores for cleansing and will exfoliate gently without feeling too harsh on the face
 
Why muslin cloths should be part of your daily skincare routine
Exfoliation – Muslin face cloths turn your ordinary cleanser into an exfoliating skin cleanser. The exfoliating action is so soft and gentle you can use it to exfoliate twice a day. Removing dead skin cells helps unblock and decongest your pores and results in smooth, clean and glowing skin. Who doesn't want that!

Deep cleansing – Muslin cloths help to properly cleanse your skin but without drying or stripping it of the natural oils it needs, as long as you are using with a plant based organic cleanser such as Castille Cream Cleanser.

They're eco-friendly – Muslin cloths are re-useable, making them much more environmentally friendly than cotton wool or disposable face wipes. You just pop them in the wash after a couple of uses.
 
How to use a muslin cloth
Apply your cleanser in the usual way (taking a few minutes to massage your cleanser into your face is another way to supercharge your regime).

Rinse your muslin face cloth in hot water and hold it over your face for a few seconds to help open your pores.

Use the cloth in a gentle circular motion to remove your cleanser.

Rinse the cloth in cool water and place over your face to help close the pores.