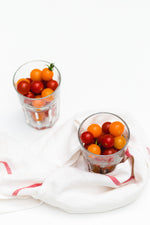 There are 12 foods known as The Dirty Dozen which are reportedly the foods with the highest pesticide content. Where possible, always buy organic versions of these foods which include: Celery, Apples, Strawberries, Peaches, Blueberries, Nectarines, Sweet Bell Peppers, Spinach, Kale/Collard Greens, Cherries, Potatoes (and sweet potatoes), and Grapes (especially imported). A good rule of thumb is that if you eat the skin then you should buy it organic.

I just love the humble sweet potato, I love the sweetness it adds to a dish. You can tell its good for you because of its lovely orange colour.  They pack more flavour than your average white spud, and are dense in nutrients such as Vitamin A and C which will impart some radiance to your skin.

The Sweet Potato Pizza is a quick meal you can prepare and can use up leftovers from the fridge for toppings. It provides a great option from the traditional bread based pizza.
Sweet Potato Pizzas:
Ingredients:
One Big Sweet Potato
Basil Pesto (try making your own)
Handful Cherry Tomoatoes
Left over Lamb/Ham
Handful Basil Leaves
Method:
Preheat oven to 180degC
Slice Sweet Potato into 1cm thick slices and cook until soft (approximately 20 mins)
Put Cherry Tomatoes in oven for approximately 10 mins or until soft
Layer Sweet Potato with Basil Pesto, meat, cherry tomorrow and basil