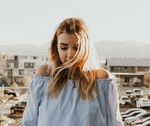 URBAN LIFE TAKING A TOLL ON YOUR SKIN? DISCOVER OUR POWERFUL SKIN CARE FOR THE DEMANDS OF YOUR MODERN LIFE.
Australia has one of the harshest climates in the world.  Our complexions are ravaged daily by the elements. Pollution, UV radiation, sleep deprivation, even the blue light emitted by digital devices all conspire to accelerate dullness, dryness and premature ageing.
We've been banging on about it for years, and call it Urban Skin Syndrome, an inescapable consequence of urban life.  
It's not so gloomy and dull though, looking after your skin should be as easy task and not a time consuming and costly affair.
Fight free-radical damage 
The result of our lifestyles takes its toll on the way we look and feel.  Pollution, fast food, stress and the sun will all put extra strain on our skin. The consequence of our busy lifestyles leads to increased production of free-radicals, rogue molecules which accelerate ageing.  Free radicals are everywhere; in UV rays, environmental pollution and even come from stress! And they're a disaster, they cause damage to skin cells and tissues which may lead to fine lines, wrinkles and loss of elasticity. 
Free radical damage is prevented by antioxidants; mandatory molecules to mop up this damage. 
So, we've deliberately included antioxidants in our products in a bid to protect your skin against your (very fun yet ) urban lifestyle. 
Here's our prescription for beating Urban Skin Syndrome. 
By-pass the damage with anti-pollution skin care.  Argan & Rosehip Face Serum and Argan & Rosehip Moisturising Cream, both inhibit the production of free radicals with an array of protective antioxidant ingredients including Vitamins A, D and E. Your new go-to for urban skin.