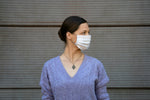 You're going to want to save this article. As wearing a mask is now compulsory across Victoria, you might begin to notice some skin irritation around the areas where you're wearing it, especially if you're wearing your face mask frequently: A concern cleverly dubbed "maskne."
There are two types of maskne that can occur when wearing face masks: contact friction and breakouts. You night get one or both of these skin concerns, but both are caused by different things and therefore have different treatments.  
What to do about acne from wearing masks.
You may be breaking out right now due to a variety of reasons, including stress and changes in your diet. And now we can add face masks to the list of culprits.
The occlusive nature of a protective mask creates a humid and warm environment under the mask, which can lead to increased sebum and sweat. And this can lead to irritation, inflammation, and breakouts.
And unfortunately, the area that a mask covers—nose, mouth, and chin—are areas that tend to break out more anyway. So if you are an acne-prone individual, take extra precautions to keep skin clear.
I recommend washing the face before and after wearing a mask. A gentle cleanser, like this one, is adequate.  And use a light moisturiser that's noncomedogenic (aka to support and bolster the skin barrier without clogging pores). It's a great time too to skip on heavy makeup, and heck, a great time to skip makeup all together.
What to do about skin irritation from wearing masks.
As for irritation from friction, any areas that are tight or rubbing can irritate the skin. Minimise this as much as possible by making sure the areas that contact your skin are smooth and not abrasive and not tighter than necessary to achieve a good sea.  If you notice this kind of irritation after removing the mask, wash the area with water and a gentle cleanser and apply your moisturiser. 
And ultimately, some irritation may be unavoidable, unfortunately. Because you can't necessarily stop it from happening, your best bet is to soothe it after the fact. It's comparable to hand-washing: Since you can't change the drying nature of hot water and soap, instead you treat dryness with a hand cream after the fact. Take the same approach with your face-mask-induced irritation, use your favourite moisturiser with soothing ingredients like Argan and Rosehip Oils.