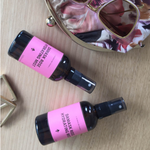 Maintaining healthy skin whilst travelling isn't easy, so here are 8 simple travel hacks to keep you looking flawless whenever, wherever.
1. Exfoliate and use a Face Serum the evening before you travel to prepare your skin in advance.

This way, your face will feel extra hydrated and ready for anything.
2.  Apply an SPF while on the plane. 
Because you're at a higher altitude, the UV rays that penetrate the plane's windows are stronger than at ground level.
3. Spritz with a Face Mist throughout the flight. 
This is a must do! The stress of traveling, especially if you're crossing time zones, can cause dry puffy, tired skin. 
4. Bring your own reusable water bottle, and fill it up before you board to stay hydrated.
This way you won't be at the mercy of flight attendants. And avoid alcohol, which can dehydrate your skin further.
5. Pack a silk pillowcase for the hotel.
I've just got on the silk pillow bandwagon, but I'm hooked! Cotton pillowcases absorb oil, which can dry out your skin. Sleeping on a silk pillowcase, on the other hand, can help keep your skin hydrated and reduce the appearance of wrinkles.
6. Keep your hands clean on the go with a travel-size hand sanitiser.
Having clean hands means you'll be less likely to transfer acne-causing bacteria to your face.
7. If your skin is sensitive to greasy or salty food, pack a healthy snack to take with you on the flight.
You never know what kind of options you'll have at the airport or on the road, so prepping ahead can save your skin.
8. Keep your hair off your face with a headband or loose ponytail.
Your hair can transfer breakout-causing grease to your skin, so keep it back and out of the way.
Are you heading somewhere fabulous this Winter? Drop us a line and let us know where...x