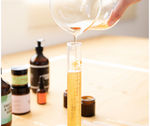 Facial oils are the new black! And once you try them, you wont go back!
If you're new to using a facial oil, you may be confused about when to use it. Do you apply oil before or after moisturiser? Can you use oil both morning and night? Can your face oil cook you dinner (*sorry, no*). All of these questions are easily understood once you've got a grip on the skincare layering rule.
The Skincare Layering Rule
Every skincare product has a different molecular structure. The order in which you apply toners, creams, and serums depends heavily on the thickness, or viscosity, and other properties of each product.
The golden rule, is to apply skincare products from thinnest to thickest, with the final layers providing increased barrier function to your skin. 
Depending on which (and how many) products you use, application based on the skincare layering rule should follow this order:
SPF

As you can see, facial oils should always be the last step of your skincare routine. This is because it acts like a barrier, locking in the hydrating benefits of your other products. (So, anything you put on top of it won't absorb as effectively.) 
Facial Oils: Morning, Night, or Both?
Appropriate use of a facial oil depends to some extent on your skin type. That's because skin produces its own oil (aka sebum) at different rates throughout the day.
Your skin makes the most oil in the morning and then it decreases throughout the day...which is why your skin will feel at it's driest at night time.
Your face oil is best applied at night time for oily / combination skin types.
If you have dry skin, you may benefit from adding a few drops of facial oil to your morning routine to layer under your makeup. Dry skin struggles to make enough sebum, which is why applying a facial oil in the morning and evening is your ideal scenario. 
If you need any help deciding which ingredients are best for your skin type, we're always happy to help. Reach us by email on contact@jacquelineevans.com.au