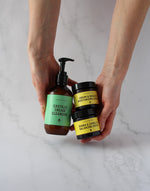 Walking down the skin care aisle may lead you to believe that in order to achieve the appearance of a gorgeous, glowing complexion, you have to stock up on a tonne of skin care products. While high maintenance skin care routines certainly exist—and work—a simple three-step skin care routine can be just as beneficial. At the end of the day, three of the most useful skin care products you can use are a facial cleanser, facial toner, and moisturiser. So, if you've been feeling overwhelmed about how to approach your skin care routine, take a deep breath and keep reading for a simple yet effective three-step skin care regimen.
You're welcome in advance!
STEP 1: CLEANSE
One of the most important parts of caring for your skin is ensuring that it's clean. Throughout the day, dead skin cells, dirt, oils, and impurities can build up on the surface of your skin, and if you don't wash your face, this can lead to clogged pores—which can lead to breakouts. Castille Cream Cleanser  is suitable for all skin types and its formula is enhanced with shea butter. It helps purifiy the surface of your skin of dirt, oil, and pollution, and use after use, you'll notice that dull skin appears brighter (all while keeping your skin soft and hydrated). No nasty tight feeling here. 
STEP 2: TONE
If your complexion is looking a little lackluster these days, you could be in need of some additional TLC.  Rooibos Facial Toner is that little extra step in any skin care routine that makes skin its happiest. Used between cleansing and moisturising, toner removes the final traces of cleanser and dirt left behind. It tightens pores and keeps skin in top condition.
STEP 3: MOISTURISE
After cleansing and toning, the best thing you can do for your complexion is to slather on moisturiser while your skin is still damp, as this can help lock in that moisture. To keep your complexion hydrated, smooth on a moisturiser formulated with Argan & Rosehip Oils is best for dry / mature skin types. Or choose Jojoba & Camellia Balancing Cream for oily / combination skin types. 
We've got all your skin types sorted in these handy Face Essentials Packs.
Dry / Mature Skin > get your Face Essentials Pack here.
Oily / Combination Skin > get your Face Essentials Pack here. 
Don't forget, it's time to reclaim your skin health. Use code METIME for your $25 voucher (valid until 23rd November 2020)