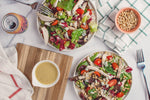 Salad season is upon us. You're filling your plate with salads to get the amazing benefits of all those fibre and nutrient rich vegetables, so you don't want to undo it all by flooding it with store bought bottles dressings which often add a lot of calories, sodium, sugar, and saturated fat. If you don't want to stand in the supermarket isles trawling through the nutrition labels, you might like to mix up some of these incredibly easy dressings to pimp up your plate. 
Why it matters.
Most store-bought salad dressings are made with soybean or canola oils, which are 'unhealthy' fats. But many dressings are also packed with artificial flavours and colours and sodium-rich preservatives. And they're surprisingly high in sugar. 
4 Simple salad dressings to pimp your salad
Apple cider vinaigrette:
¼ cup apple cider vinegar 
¼ cup extra virgin olive oil
1 tbsp Dijon mustard
Combine in a small jar and shake. Use liberally on salads. Keep in a jar in the fridge for up to a week.  (NB this is my go-to for *literally* almost every single meal. 
Tahini Dressing:
2 tbsp tahini
¼ cup boiling water
3 tbsp freshly squeezed lemon juice
¼ cup extra virgin olive oil
½ tsp salt
¼ tsp freshly ground pepper
1 clove garlic (optional)
Whisk the tahini and boiling water together until completely smooth. Whisk in the remaining ingredients. Keep in a jar in the fridge for up to a week.
Carrot-Miso Dressing:
2 carrots, peeled and roughly chopped
¼ cup roughly chopped fresh ginger
2 tbsp miso paste
¼ cup rice wine vinegar
2 tbsp maple syrup or honey
2 tbsp sesame oil ½ cup extra virgin olive oil
¼ cup water
Salt and pepper
 Puree all ingredients in a high speed blender until absolutely smooth. Keep in a jar in the fridge for up to a week.
Sweet Basil Citrus Salad Dressing
1 cup fresh basil leaves
½ cup juice from an orange
2 tbsp lemon juice
1-2 tsp Dijon mustard
1/2 cup extra olive virgin oil
Salt and pepper 
Pulse basil leaves in a small work bowl a few times until finely chopped. In a bowl combine chopped basil with the rest of ingredients except olive oil. Slowly drizzle in olive oil while whisking at the same time to emulsify the dressing. Store in a sealed jar in the fridge for 1-2 weeks. Shake before using.
PS: Check out this Broccoli and Artichoke salad here and Quinoa and Bean Salad here for some salad inspiration.