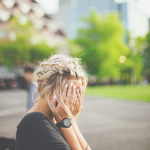 When pimples and wrinkles collide...the story of adult acne...
Breakouts belong alongside your first driving lesson, your first date, or your (awkward) high school formal - or so you thought. It seems one in two women will have adult acne at some point in their lives, and one in four men. That's a lot of us. Yet most of us don't seek help as we think there isn't much we can do about it. The good news is there is much that be done to treat late onset acne.  Nobody knows for sure why some people develop acne in their 20's, 30's, 40's, or even 50's (although there are plenty of theories). We do know, however, that acne develops when the oil glands in our skin produce too much sebum (an oil your body produces to keep it naturally moisturised).  Bacteria on the skin can cause the sebum to thicken and block pores causing blackheads, pimples and cysts. 
The process of adult acne may be aggravated by:

Diet - The relationship between diet and acne is one I can not ignore. Recent published findings support a link between diet and acne*. It proposes that a typical Western diet (think sugar, simple carbohydrates like processed foods) leads to persistent elevation of insulin, and this insulin is known to increase sebum production; a risk factor for acne. *Reference 

Diet - Ever noticed the same occurring pimple always at 'that time of the month'. We know that fluctuating hormones can cause breakouts in menstruating females, pregnant and menopausal womens skin. You can blame the hormones called androgens (testosterone and oestrogen) which tell the oil glands to enlarge and produce more sebum.  

Stress - It's official we can almost blame stress for everything. Stress will release chemicals and hormones such as cortisol that may exacerbate oil production.  Have you thought about ways to manage your stress?

Cosmetics - Certain cosmetics may irritate skin, cause inflammation and encourage bacteria to penetrate the skin. I know my skin had a decent breakout over Summer from the oily sunscreen being applied. Harsh cleansers can also lead to imbalanced sebum production too. It might be worthwhile checking out some cosmetics and skin care brands with gentle plant based ingredients which work with the skin, and not against it. 
Medications - some medications may contribute to acne. If you feel your medication is causing your acne, talk to your health professional before you stop taking prescribed medication.
Healthy skin is an integral part of good health. It can be a frustrating and challenging road finding effective and sustainable ways to improve the health and appearance of your skin, as these common skin conditions are much much more than skin deep. The appearance of your skin is an outward reflection of your health on the inside, and a comprehensive approach to management is required in order for the internal causes to be resolved.

PS: Did you hear the exciting news!? Vogue Magazine recently featured us as one of the top 10 Australian Beauty Brands.  We felt incredibly proud and you can read all about it here and whilst we are on the subject of Vogue we got all nostalgic about earlier mentions from this iconic beauty mag -Italian Vogue talked about our range being devised on modern science and nature and our founder, Jacqueline Evans was featured in Australian Vogue in February 2014.

Be kind to your self and your skin, 
Jx