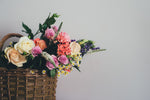 Hi there lovely, 

Yay for Spring!  Hands down my fave time of the year. Mild breezy nights, chirping birdies, the sweetness of new flowers in the garden, and the whiff of bright, fresh, warm(ish) days brimming with life and fresh new possibilities.  

Loving Spring, but the shift in seasons can throw a little mayhem on your skin. Here's some common Springtime conundrums and how to fix them:
Hydrate & Protect
After some drying weather in Winter, we need to rebuild our skin and replenish all that moisture that's been lost. So, what exactly do you look for in a moisturiser?  Keep an eye our for products that double as a moisturiser and a skin protectant. We're talking about ingredients like camellia oil and Vitamin E that works as emollients and trap moisture inside skin cells, plus keep the skin hydrated. 
 
Protect thyself from the wind
Spring breezes can often feel like gale force winds. This can result in chapping, redness, and just general ruddiness. When this happens, you need to find something to protect, hydrate and comfort your skin. Adding in a hydrating mist throughout the day gives your skin that extra TLC it is craving. We love to carry Damask Rose Hydrating Mist in our hand bag and spritz it during the day whenever our skin feels dull or has some pesky dry patches. 
Don't forget the SPF
SPF is a must have year round, but now the weather is warmer, you'll be more likely to be outside more and more.  Get to know which one works for your face and which one works for your body - sometime the formula can be great on your arms but cause a break out on your face. We love sunscreeens with ingredients like titanium dioxide and zinc dioxide, which react less with the skin to cause breakouts. 
 
Love your body
Show your body you love it by nurturing it (and getting rid of those dry scaly Winter legs) by exfoliating in the shower. All natural and packed with skin loving ingredients, Cacao & Orange Body Polish, will exfoliate, nourish and moisturise, leaving you with silky smooth legs. Oh, and it smells like a chocolate orange cake too!  

Above all else, enjoy the opportunity for new beginnings,

Love,