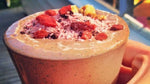 3pm hits. I get starving. This is where I go. Inspired by The Holistic Ingredient's Walnut Brownie Breakfast, this satisfies. 
Banana Choc Smoothie
Blend together 1 banana, 2 cups water, 1tbs raw cacao, 1 tbs protein powder, 1 heaped tsp maca powder, 1 tbs coconut oil and a handful of cashews.
Sorry for the quick post, but hunger calls...