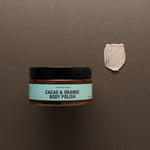 Sorry, no plastic micro-bead technology inside. Just crushed walnuts. 
Before you consume your body weight in chocolate, we have a super special chocolatey gift just for you - but this one will leave your skin soft and glowing!  Our Cacao & Orange Body Polish is pure awesomeness - we take crushed walnuts and combine it with a number of richly moisturising oils, that work hard together to rid the body of toxins and improve circulation and skin tone. Yep, I tell you, your skin feels amazing after using this body polish. 
And, guess what...it smells like a giant chocolate jaffa!


Here's what people are saying about the Body Polish..
 
"it's great to know what I'm putting on my skin. I have just brought the gift pack kit plus the walnut scrub, absolutely love it and will be recommending to all of my friends!" Sarah
"Jacqueline, I was staying at my sister's house and used some of her camomile and walnut scrub. I love it so much that I stole the tub!:" Kura
"Everything smells divine. It was so nice to open them up and not smell chemicals." Renee
"I LOVE the body scrub, your products are delightful!!!:)" Carly
"I have recently purchased your skincare for myself and love it, packaging is gorgeous!!!" Kate