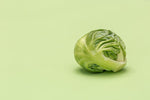 Last week I spoke about how that overwhelming tiredness you're feeling may be due to suboptimal gut function. I mentioned that eating a diverse range of veggies is crucial for a healthy gut (aka microbiome). 
If you've noticed that your skin is looking a little dull and lacklustre; and you just want some GLOW back in your face, then you need to look inside and sort that microbiome (*keep up the epic skin care routine you're doing, but darling, that's only half the job*). 
So, today's post (and lunch!) is inspired by the results from the American Gut Project – the largest study of it's kind to look at how diet and lifestyle affect the human microbiome (you can read more on the study here).
The skin has a microbiome just like the gut; so as we improve our gut microbiome we are improving our skin microbiome (which basically just means HEALTHY GUT = GLOWING SKIN)
The research concluded that people who regularly eat 30+ different types of plant foods per week have a more diverse microbiome than those that eat 10 or fewer.  And we know a diverse microbiome is a very very good thing; as different bacteria have different effects on our risk of disease. And, according to the study it doesn't matter if your vegetarian / vegan / meat eater; so long as you're consuming the 30+ different plant based foods, 
So eating plants is good, but eating a big VARIETY of plant foods is better, as it seems to encourage the growth of different species of helpful bacteria.
This also means that you don't have to be veggie to get the benefits of a plant based diet for your gut– what is important for both veggies and meat eaters is to get lots of variety.
Now eating 30+ types of plant foods a week sounds like a massive ask – although I've knocked through about 12 so far today (spinach, kale, hemp seeds, cinnamon, oats at breakfast and broccoli, cos lettuce, cucumber, turmeric, avo, olive oil and red capsicum at lunch) so it seems pretty doable – although each item only counts once in the week, even if you eat it lots.
I'm going test this over the next few days with this little cheat sheet to see how many I get to. Not sure what counts as a plant food? Check this handy list for starters.
The point isn't to get fixated on 30 types though – the point is to keep your diet diverse, mix up what you eat and try to eat a different fruits, veggies, wholegrains, seeds, nuts and pulses rather than eating the same ones each day. If you're currently on 10 types and you jump to 15, then that's a high five and thumbs up from your gut.
So let's do a challenge together; for a healthy microbiome and glowing skin! Download this cheat sheet and calculate your plant food intake for the week. Share your results with us by commenting below or using #microbiomechallenge
Photo by Matthew Henry on Burst 
Download this little cheat sheet here and note how many different plant based foods you're having this week....(check this handy list for starters) and I'd love to see you progress so upload it to Instagram and use the #microbiomechallenge because beauty really does begin on the inside x 
Got any questions? Comment below and I'll get back to you, 
Jacqueline x