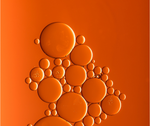 Natural oils, both essential and carrier oils can have remarkable benefits in keeping your skin healthy and firm.  Naturally sourced and highly effective, we're shining the spotlight on just a few of these to help you make the switch to green beauty today!
Carrot Seed Oil
Carrot seed oil has been know as a great protector of the skin.
It is derived from the steam distillation of the wild carrot plant and is said to contain healing properties that restore sun damaged skin and promote cell renewal.  It is also touted as an incredible anti-ageing oil, due to its richness in carotol and caretenoids which are both powerful antioxidants. These antioxidants can help fight off free radical damage which result in fine lines and wrinkles. 
Plus is also helps balance out the skin by regulating production of sebum which makes it ideal for all skin types.  
Help make your skin smooth and soft by using Jojoba & Camellia Balancing Cream OR  Argan & Rosehip Moisturising Cream which both contain Carrot Seed Oil. 
Argan Oil
Argan Oil is extracted from the kernals of the unique Argan Tree found only in Morrocco. 
Said to contain 80% fatty acids which help to combat free radicals (damaged cased by pollution and UV rays) in the skin and provide anti-ageing properties. It contains an abundance of Vitamins A & E which help to soften the skin and improve overall elasticity, helping to prevent sagging. It also sterolins which are responsible for promoting healthy cell metabolism. It absorbs into the skin without leaving any oily residue behind, making it suitable for all skin types. Yet its capacity to deeply nourish makes this oil especially beneficial for dry and damaged skin.  
Reap the benefits of Argan Oil here and here.