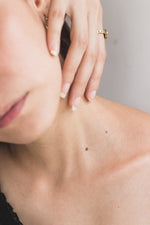 Many of us are programmed to believe we need to keep our fingers and hands away from our face to maintain clear skin.
That touching the face massage will lead to wrinkles and sagging in the skin. The truth is actually quite the opposite. 
Our hands are a very powerful and effective tool  when it comes to the health of our skin (when done properly of course).
Your face has hundreds of pressure points and a complex lymphatic system. All of these points correspond to different parts of our bodies and effect our skin. Many skin concerns that leave us looking puffy are a result of these systems being clogged up and congested. A great way to clear them is through massage, specifically pressure points and lymphatic drainage style moves. 
Through facial massage, tension around the jaw is released and tightness in the scalp loosens. Circulation increases, firming the facial tissue by stimulating muscles, aiding in lymph flow and allowing for deeper penetration of topical creams and serums. This also doesn't hurt when it comes to attaining a natural glow!
DIY Facial Massage for Glowing Skin
A few things to remember before you start:
A good facial massage should begin with warm hands and an even medium pressure. 
Make sure your face and hands are thoroughly clean before you begin.
1. Place all 10 fingertips above your eyebrows. Gently and slowly push up to the top of your forehead and into your scalp. You choose whatever pressure feels good. Repeat this movement five times.
2. Gently pinch your eyebrows using thumb and index finger at the inner edge. Pinch four times as you move your fingers along your brows to the outer edge. Repeat this move five times. (This is also a great way to stave off a headache if you feel one coming on.)
3. Using your index and middle fingers, place your fingertips on your temples. Gently massage for a few seconds before gliding your fingers under the eye area, toward the bridge of your nose, then up and over your eyebrow, ending the oval path back at your temple. Never lose contact. Repeat this move five times.
4. When you've finished, gently glide your fingertips from your temples down the sides of your face toward your neck. This will help move stagnant fluid and aid in lymphatic drainage. (This is especially great if you suffer from excess fluid under you eyes.)
5. With your fingertips just below your ears, gently massage along your jaw in circular motions with your index and ring finger, toward your chin. Repeat this motion as many times as you like until your jaw begins to relax.
6. Now place your hands palms-down on your décolletage/chest. Starting with your left hand, gently glide the hand up your chest and neck, toward the chin. Alternate to your right hand and repeat five times.
7. You can finish with massaging your scalp. We hold a lot of pressure in our scalp and releasing that will have a very relaxing effect. A shampooing motion with medium to firm pressure will release a lot of pressure points. 
Finally finish by placing your hands over your face and taking in a few deep breaths. This will calm your nervous system and release any stress you've been holding onto.