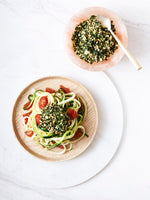 Kale & Walnut Pesto
Ooooh that kale pesto, I'm telling you..
I know it sounds like the most crazy thing. First of all, KALE, but you've got to try this. 
This delicious pesto is literally bursting with skin beautifying nutrients like Vitamin E, antioxidants and omega 3 fatty acids! 
It's super-speedy quick to prepare and equally delicious on past, zucchini noodles, brushed on grilled chicken or on your favourite little savoury cracker. 
Ingredients
½ cup Kale, cleaned and chopped
¼ cup basil leaves
½ cup walnuts
1 clove garlic
½ tsp salt
½ cup shredded parmesan cheese (or 1tsp nutritional yeast if Dairy Free)
½ – ¾ cup extra virgin olive oil
Method
In a food processor, combine the kale leaves, basil leaves, and salt. Pulse 10 to 12 times, until the kale leaves are finely chopped. With the motor running, drizzle in the olive oil. Scrape down the sides of the processor. Add the walnuts and garlic and process again, then add the cheese and pulse to combine.
Serve with pizza, pasta, crackers, eggs, salads, soup, grilled chicken or sandwiches.

You can store the pesto in an airtight container in your refrigerator for up to three days, or freeze it for up to two months.