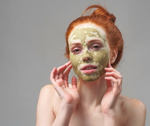 You apply a face mask, filled with the kind of optimism that only comes with knowing you're about to take your skin from dull to dazzling.  
Using a face mask may seem like a relatively simple process, and it is – to a point. Face masks can work wonders on skin, transforming it from a dull, flaky, dismal mess to glowing and radiant in a matter of minutes. There is, however, an art to using face masks. Do it right, and you'll be amply rewarded. Do it wrong, and, well, it won't do much of anything at all.
We all know the drill: Wash your face, slap on a face mask, wait until it dries, and then rinse it off.
See? Simple. But also, this isn't exactly the way to do it. Let's take a look first at how face masks work, and what kinds are best for what skin types. Then, we'll review exactly what we're doing right – and wrong.
FACE MASKS HAVE BEEN USED SINCE FOREVER
Women (and maybe men too) have been using clay as face masks since Biblical times.
Now, we've got loads of functional and therapeutic ingredients to choose from— and most skincare professionals consider face masks an essential part of a skin care routine.
Why? Here are a few benefits face masks have for your skin:
Cleansing and Refreshing: Clay masks usually are found to be effective in cleansing the pores.1  It also helps in healing skin blemishes, leaving the skin invigorated.2
Detoxifying and Hydrating: Certain face masks have detoxifying properties,  like charcoal, which also works to hydrate the skin.  You'll find little tiny charcoal beads in our Green Clay & Gingko Detox Mask which release when they touch the skin, so they can work their best magic right when you're using your mask! 
Moisturising: A good face  mask contains essential ingredients with soothing effects. We've found marshmallow extract to be soothing, as it is a known skin moisturiser. Not just good to eat, marshmallow extract is a natural anti-inflammatory and you'll find it inside our Pink Clay & Hibiscus Renew Mask. 
Exfoliating: A good exfoliating mask works best if it contains ingredients such as alpha hydroxy acid (AHA). It acts as an exfoliant and as an anti-aging solution by helping to remove dead skin cells and diminish wrinkle formation. Winning! AHA's are abundant inside Hibiscus extract, it's the reason our Pink Clay & Hibiscus Renew Mask is so good at freshening and brightening. 
Unclogging pores: As long as you have AHA as one of the main ingredients in a mask, unclogged pores can be yours.  
Brightening: A facial mask can certainly help to brighten the appearance of the skin. 
Improving Elasticity: Masks which contain antioxidants may help to improve your skin's elasticity. So when choosing your face mask for anti-aging purposes, don't just concentrate on cleansing and detoxifying properties. Look for a more powerful anti-aging ingredients like antioxidants, such and Gingko. 
Image via Shutterstock
So what are the 5 ways you could be messing up your face mask?! Let's take a look:
1. Skipping Face Prep
As with many things, preparation is key when using a face mask. Skip this and your results will be compromised. In order to reap the most benefits from any mask you're using, you want to be sure your pores are open. There are a number of ways to accomplish this:
Cleanse your face.

Applying a face mask without cleansing your face is a waste of time and money. The mask won't work effectively until you've gotten rid of the gunk first. Use a gentle cleanser to unclog your pores, giving way for the face mask to better penetrate your skin.
2. Leaving a Mask on Too Long
Time is important. We all need more of it. But in the case of face masks, more time is not necessarily a good thing. Leaving a face mask on longer than directed doesn't mean you'll get extra benefits. It might actually have the opposite effect. Leave a face mask that is supposed to moisturise on too long, and you may wind up irritating your skin. Leave a clay mask on too long, and you may need a chisel to remove it!
Don't go rogue with your face mask. Pay attention to the directions on any and all products you use. If it says to leave the mask on for 20 minutes, do that. Set a timer, too, so you'll remember to stop down and rinse the mask off.
Here's a tip: If you're using a clay mask, there's a fair chance it will begin to change colors as it dries. Check the color. As it gets lighter, it's likely drying. If you've reached the point (and we all do) where you try to smile and you feel the mask cracking, rinse it off. 
3. Don't Lay A (Dirty) Finger On Me!
We all know that touching our faces with dirty fingers isn't a good idea. Any bacteria on our fingers can easily transfer onto our facial skin, resulting in pimples. Using dirty fingers to apply a skin care facial mask is one way to potentially negate the benefits you'll get from the mask itself.
Wash. Your. Hands.
Using fingers to spread on a mask is convenient, but it's not the only way to do it. For a quick DIY set, gather a small bowl, a foundation brush, and a small spoon you can use to spread the mask on your face smoothly and evenly. This is quite a heavenly practice. 
As with your hands, wash your set (especially the brush) thoroughly after you use it.

Image via Shutterstock
4. Quickie Rinse-Off
Just as the rinse cycle is critical in washing clothes, so goes the rinse cycle for face masks. Many of us splash a few times and then dry our faces. That's all it takes to remove the mask residue, right.
Not true. A few splashes won't do. If you don't remove all of the mask, you may wind up with irritated or clogged skin. That certainly defeats the purpose of using the mask, now doesn't it?
First, make sure you are rinsing your face with lukewarm water. Rinse multiple times. You can use a Muslin Cloth, but make sure that you aren't scrubbing too hard. Rinse, don't scrub. Scrubbing might lead to redness and irritation. Remember, facial skin is particularly sensitive—especially after a mask.
Make small, circular motions with the washcloth, ensuring that you've taken it off entirely. Check the hairline. Check under your nose. Check under your chin, behind your earlobes and eyebrows. These are all places that might need a little extra rinsing TLC.
Once you've removed the mask, consider splashing some cool or cold water on your face. This will help close the pores.
5. Lock it in
Reap the benefits, but following with an antioxidant serum and gentle moisturiser, and you're all set! 
If you are going to do the extra step of applying a face mask, might as well maximise results, right? Take the time to use them correctly and it will pay off. Now, go show the world that gorgeous glow.
We love seeing your beautiful faces using our Face Masks - keep sending us your pics using #loveyourskin.
Thanks for taking the time to read this. Feel free to comment below if you have any questions x 
Words: beverlyhillsmd