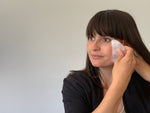 With less than a month until Christmas, it's time to take a moment to be kind to yourself and get your Gua Sha glow on! 
All you need to do is add 3 -5 minutes to your normal skincare routine, and not only will you breathe life into your tired, dull skin, but you will feel revitalised because you're shifting stagnate 'Chi' in your body.
What I love to do is to wait until after I've put the girls to sleep, finished off with work and have a quiet moment to myself at the end of the night.  I'll do my usual cleansing routine in the bathroom, but for my Gua Sha ritual I prefer to do that in the comfort of my bedroom.
You see, I like to set the scene for my Gua Sha ritual and make the most of the spare 3 -5 minutes I have to really pamper myself. So what I usually do is, before turning off the lights, I make sure to apply the Argan & Rosehip Face Serum to my cleansed and dry face, neck and décolletage.
Then using the flat surface of the Rose Quartz stone, massage across the face and neck using the below technique, anywhere from a minute and up to 5 minutes, time permitting!
Practicing the Facial Gua Sha ritual will clear, smooth, plump, tighten and rejuvenate skin while reducing under-eye circles and puffiness.Neck: gently sweep neck in an upwards motion towards the jaw.

Gua Sha Ritual
Using the Rose Quartz Gua Sha, using the flat part gently massage your face and neck in an upward and outward motion starting from the neck area, moving along to your chin, cheeks and around to the eye area.  I do one half of my face, then do the other half.
NECK: gently sweep up from collar bone to under chin
JAW: gently sweep from the chin along the jawline in an upward motion towards the ears.
CHEEKS: gently press from the centre of the face and work outwards towards the hairline.
BROW: gently sweep across the brow line starting from the centre and working outwards.

FOREHEAD: gently sweep in an upward motion towards hairline.
Now, by the time I've finished the Gua Sha massage, I am not only relaxed but totally ready for bed. To complete my ritual I hydrate with the glass of water, turn our the lights, curl up under the doona and drift off to a most sumptuous sleep! 
Until the next blog ladies, good night..
PS: Do the same thing in the morning to remove the morning 'sleep look' aka puffiness and tired face. 
P.P.S. For your very own Gua Sha glow, head over to our online store and order your Real Beauty Box which contains hydrating Argan & Rosehip Face Serum and Rose Quartz Gua Sha.