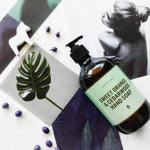 As coronavirus, or COVID-19, makes its rounds internationally, and as worries rise, with stores running out of things like toilet paper (!) and hand sanitiser, has left us wondering; how do you keep your hands germ free?
The World Health Organization declared coronavirus a public health emergency. While nearly every advisory stresses the importance of washing your hands, how do you know if you're doing it correctly?
We can't say it enough: Wash your hands! Washing your hands is the best way to both prevent spread and prevent yourself from getting sick.  Also, avoid touching your face (especially your eyes, nose, and mouth).  Did you know we touch our faces, on average 23 times per hour....
What's the best way to wash your hands?
The basic rule of thumb is to rub your hands together with soap and water for at least 20, but preferably 30 seconds. And yes, singing "Happy Birthday to You" is still an appropriate measure. 
The big question on everyone's mind is what about hand sanitiser? According to Infectious Disease Specialist Dr Glatt, hand sanitiser works just as well if water and soap aren't available; just remember the aforementioned 20- to 30-second rule still applies. If a set amount is dispensed after pressing a button or using an automated sensor, that's typically enough. Otherwise, aim to use a 50c-sized dollop. 
Your hand sanitisers and soaps can be scented or unscented, the product doesn't matter, It's mainly about vigorous rubbing with the material or doing it for the right amount of time.
How often should we be washing our hands?
Though over washing isn't dangerous, but we don't need to go crazy, as it'll only lead to chapped hands.
We don't want people to turn obsessive - compulsive about washing hands; it's relatively common sense. If you think you should be washing your hands, you probably should.
Generally, going to the bathroom, touching something dirty, or wet, preparing food, or eating a meal are all situations that should prompt a hand-washing.
Naturally, we've got your Hand Soap needs covered with our Sweet Orange & Cedarwood Hand Soap available in 500ml and also in our 1L refill.