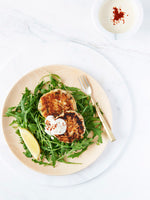 These salmon patties are one of my favourites mid-week meals, mainly because they are so simple to prepare and the kids love them. They're perfect on a bed of rocket, fennel, or served with oven roasted sweet potatoes and avocado.  I recommend cooking a double batch  for a quick on-the-go lunch the following day. Packed with omega-3, protein and vitamin B, salmon is a key food to include in your diet to keep your hormones and skin humming! 
INGREDIENTS (Serves 2)
For the salmon burgers
200gms canned salmon or cooked salmon, drained
2 free range eggs, beaten
3 tbsp diced shallots
1-2 cloves garlic, diced finely
1 tbsp fresh parsley
Chilli flakes (optional)
½ tsp paprika
1/2 cup almond meal
Salt and pepper to taste
¼ cup coconut oil or butter
Lemon wedge to serve
For the lemon and tahini dressing
50ml Tahini
1 medium lemon
2 cloves garlic
50ml natural Greek yoghurt
1 dessert spoon extra virgin oilive oil
Salt and pepper to taste
A pinch of paprika
1 tsp of dill (or can use other fresh herbs you have available such as parsley, oregano, chives tarragon etc)
METHOD
For the salmon burgers
Combine the salmon, eggs, shallots, almond meal, garlic and spices in a mixing bowl. If the consistence is a little runny you can add a little almond meal.
In a large pan over medium heat, melt enough coconut oil to cover pan. Form the salmon mixture into 4 equal sized patties, and place them in the pan, all at once or two at a time. Allow the patties to brown on one side before flipping and cook all the way through.
For the lemon and tahini dressing
Juice the lemon, finely chop garlic, and add all remaining ingredients into a clean jar and shake vigorously. 
Serve warm (or cold as leftovers) with a drizzle of the lemon and tahini dressing.
Recipe –
 

Jacqueline Evans. Styling –

 

Claire Larritt-Evans, styling assistant – Alison Turnbull. Photo –

 

Eve Wilson. Props from top to bottom –

 

Himalayan Salt Block

 

available from

 

Jacqueline Evans, and

 

small marble bowls

 

from

 Safari Living

. Surface – Elba Marble Tile

 

by

 

G-lux.