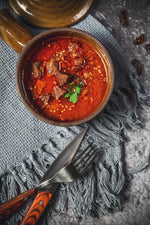 It's clear iron deficiency is a big deal.
I've just recently tested my iron stores and was shocked to find out I had super low iron. Perhaps this explains my recent tirednesses?
Iron deficiency is the most common and widespread nutritional deficiency in the world, according to the World Health Organization. It's estimated, one in five women of reproductive age has iron-deficiency aneamia.
What we're not talking about as much? Many women have iron levels that don't technically qualify as deficient but are still low enough to prevent them from experiencing iron's full scope of health benefits. This is as important to know, especially because women need more than twice as much iron daily as men. 
A few main reasons you might have lower iron levels:
You're not eating enough iron-rich foods like eggs, meat, and leafy greens. 
You have a hard time absorbing iron even if your diet has plenty of it. 
Your body has a bigger demand for iron because you're menstruating, pregnant, an athlete, or a frequent blood donor. 
Those with gut conditions, such as SIBO, IBD and Coeliac disease. 
How do you know if you have iron deficiency?
Some common signs of iron deficiency are; 
Unusual tiredness

Paleness

Shortness of breath

Headaches / dizziness

Heart palpitations / racing heart

Dry and or damaged hair, nails or skin

Restless legs 
How to start bumping up your iron levels:
Your body can't produce iron on its own, so you need to make sure you're getting enough from your daily diet, or through supplementation. Keep in mind that animal sources of food, including meat and seafood, contain a type of iron that's more easily absorbable (known as heme iron), while the type found in plants like beans, nuts, vegetables, and fortified grains, is less bioavailable (non-heme iron). Plant-based iron sources of food need extra help getting absorbed, and eating vitamin-C-rich foods along with it is one way.  In Australia, the Recommended Daily Intake (RDI) of iron are as follows:
Male: 8mg/day

Female (menstruating): 18mg/day

Vegans and vegetarians: requirements are 1.8% greater due to a lack of haem iron within the diet.
Pathology tests like a ferritin test—which measures a blood protein that contains iron—can confirm if your body's iron stores are low.
Whilst it's super important with iron deficiency to optimise gut health, the following foods are high in iron; 
| | | |
| --- | --- | --- |
| Food | Serving size | Iron content |
| Chicken liver | 100g | 11mg |
| Beef | 100g | 3.5mg |
| Kangaroo | 100g | 3.2mg |
| Lamb | 100g | 2.5mg |
| Kidney beans | 1 cup | 3.1mg |
| Lentils | 1 cup | 3.0mg |
| Tofu | 100g | 2.96mg |
| Chickpeas | 1 cup | 2.7mg |
| Raw spinach | 1 cup | 1.5mg |
| Rolled oats | 1 cup | 1.1mg |
| Broccoli | 1 cup | 0.86mg |
How can I improve my iron intake?
Certain foods and drinks affect how much iron your body absorbs. Some foods can help our bodies absorb iron, while others can inhibit it.
To ensure your iron is being absorbed we recommend that you:
eat foods high in vitamin C with foods that contain iron

cook your plant foods to improve the amount of available iron

avoid having tea, coffee or calcium during or directly after having a source of iron

speak to your doctor about any possible dietary interactions with your medications or herbal supplements that could impair iron absorption.
Ensure that you only take iron supplements under the advice of a health care practitioner, as too much iron can also be harmful.
If you are pregnant, breastfeeding, or taking medications, consult with your health care provider before starting a supplement routine. It is always optimal to consult with a health care provider when considering what supplements are right for you.
I hope this has been helpful. Leave your comments below or get in touch if you have any questions.