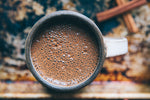 A healthy hot chocolate thats actually good for you...
Anyone who  knows me, knows that I have a huge bit of an addiction to chocolate. I love it in all forms but lately I have been making this amazing hot chocolate as an after dinner treat and it sure hits the spot! I love wrapping my hands around the hot mug and sipping away, plus it floods your body with amazing superfoods and nutrients. 
Here's the (delicious) benefits:
Cacao is unprocessed chocolate with so many benefits 

Coconut oil is excellent for boosting metabolism and curbing hunger among many other benefits

Cinnamon is helpful in controlling blood sugars which gets rid of any cravings

Coconut milk is filling because it is high in heart healthy fat and it has been shown to help build muscle and lose fat by enhancing physical performance

Ginger is an amazing digestive aid 

Turmeric is a natural anti-inflammatory and is basically the most powerful food in existence.
The Recipe
serves: 1 big mug or 2 small mugs

Ingredients //
1 cup canned, full fat coconut milk (I've been loving this milk lately)
1 cup non-dairy milk (almond, cashew, coconut) 
2-3 tbs raw Cacao powder 
1 tbs Coconut oil 
1-2 tbs raw honey/maple syrup/coconut sugar 
1 tsp Vanilla extract
1 tsp cinnamon
*optional add-ins* 1/4 tsp turmeric powder (add a pinch of black pepper to increase bio-availability), 1/4 teaspoon ginger or even a pinch of cayenne pepper if you like a little kick! 

Method //
Add all ingredients to medium saucepan.

Heat over medium heat, while stirring constantly.

Once, heated to your preferred temperature, you can blend with a stick blender if you have one handy

Pour into your favourite mug and sink into the couch and sip away
Give your skin the benefits of chocolate too!
Have you tried our Cacao & Orange Body Polish?
It's a super hardworking body scrub, containing richly moisturising oils, which help to rid the body of toxins and improve circulation and skin tone.  With antioxidant rich cacao to target cellulite and exfoliate leaving skin soft and supple.  You can read more about it here. 
Thanks so much for reading x