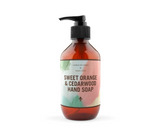 Say hello to your new favourite hand soap.

We collaborated with Melbourne artist, Tegan Lloyd and The Butterfly Foundation to change the conversation about beauty, one Hand Soap at a time. 

Made with natural ingredients, without any chemical foaming agents, with the fresh scents of Sweet Orange & Cedarwood, to lather beautifully with a moisturising after-feel. 

And the best part? Every pump is a step closer to raise community awareness about the reality of eating disorders, to support anyone affected by eating disorders and promote positive self body image. 
It's the ideal gift this Christmas and you can get your hands on one here 

#loveyourskin