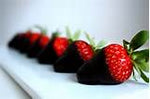 I LOVE chocolate – it is hands down one of my favourite foods.  I do love good quality chocolate, the kind that is bursting with raw cacao, coconut oil and no refined sugar.  My tastes buds have become accustomed to crave this type of chocolate as a treat.  However, if I get a sudden urge for chocolate and there is none in the house, I whip up this super easy chcoate sauce to dip my favourite fruit into, or sometimes you can find me just licking it from a sppon. Yep, I do love chocolate.  You MUST try this recipe, when the craving strikes!
Warm Chocolate Sauce:
Depending on how much you want to make, use this as a guideline – if I just want a small amount, one part is one tablespoon:
1 part  tahini
1 part raw honey or maple syrup
1 part raw organic cacao powder
½ part pure coconut oil
Add ingredients together and slowly add small amounts of hot water to make a smooth, rich sauce.
Then dip it into your favourite fruits. I just love it with the fresh, sweet juicy strawberries that are available now, or we go crazy for it on a banana which is topped off with crushed walnut or cacao nibs.