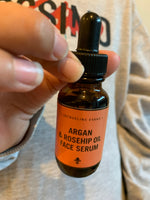 Change of seasons means change of skincare. Making small changes to your skincare each season will help your skin cope with the changes in temperature, humidity and UV. Switch to a lighter serum (we formulated our to be trans seasonal - check it out here) and moisturiser, you won't need heavy creams as it gets warmer. Also make sure you're applying your SPF each morning. 
Winter and the conditions that come with it (dry cold air and hot air conditioning) can leave our skin resembling more of a lizard than human skin. 
For an at home DIY treatment, try a in shower body scrub or a dry body brush and use them weekly as the weather warms up. Body moisturising everyday will also help; evenings are the best time before bed when your skin can soak it up while you rest.
Spring clean 
Spring and Summer a great time to do a clean out of all your skincare and makeup. Toss anything that:
+ Is past the expiration date
+ Products that appear dry or crusty
+ Has changed consistency, colour, or smell
+ Has an SPF older than one year (SPF loses its effectiveness over time and it's just not worth the risk.)
+ Mascara older than three months. (Always toss it after three months, regardless of how much there is remaining.)
+ Old, dirty make-up brushes and sponges
Lighten up your routine
Spring and summer are the seasons for lighter, fresh dewy makeup and bright colours. Change your heavy foundation to a tinted moisturiser for a more natural dewy finish.  Change your lipsticks to a gloss and use a lighter pink or apricot blush in a cream instead of a powder. Change your eyeliner to a thinner line or even try thin wings.  Just do anything that makes you feel AMAZING! 
Get a new hair 'do. Spring is a great time to refresh highlights in your hair and get a fresh new cut.
Change of season also means change in diet. Moving away from warming stews and soups and into summer salads will give you a nutritional boost that will make your skin glow from the inside.