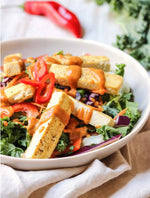 We've been doing 'meat-free Mondays' as a family for a long time now. It's a great opportunity to get creative in the kitchen, and fill your plate with loads of different veggies. Remember for good microbiome diversity we ought to be aiming to eat about 30 different plants per week. Give this meal a go for your next Meat Free Monday and smile to yourself, as it'll dose you up with 8 different plants.
Learn more about Microbiome Diversity here 

Serves 4.
INGREDIENTS
For the salad:
400) firm tofu
3 cups (90g) kale, chopped
1 cup (100g) purple cabbage, shredded
1 red capsicum, chopped
⅔ cup (30g) carrot, grated
1 tbsp. coconut oil

For the dressing:
3 tbsp. peanut butter
2 tbsp. coconut milk
1 tbsp. rice vinegar
1 tbsp. honey
1 tbsp. soy sauce
½ lime, juiced
½ tsp. chili flakes
1-2 tbsp. water

METHOD:
1. Wrap the tofu in a kitchen cloth and place something heavy on top of it - this will cause the moisture in the tofu to release.
2. In the meantime, prepare your vegetables. Toss the chopped kale, grated carrot, capsicum, and shredded cabbage in a salad bowl.
3. In a small bowl, mix all the dressing ingredients.
4. Heat the coconut oil in a pan. Cut the tofu into strips and season with salt and pepper — fry on medium-high heat for about 5 minutes each side, or until golden brown.
5. Divide the salad between bowls, top with tofu, drizzle with the salad dressing and season with black pepper to serve.
HINT: Works perfectly with grilled chicken if you don't love tofu or want to mix it up x