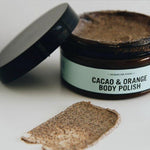 Enjoy this newsletter which looks at the skin benefits of chocolate and coffee.
 
Three reasons to make Chocolate and Coffee
 a part of your Skin Care Routine.
I love coffee and am totally obsessed with chocolate. I mean, who really isn't? So, when I discovered the skin benefits of these two fine ingredients, I couldn't resist formulating a product that combined them.

The Cacao & Orange Body Polish is a super body scrub, containing coffee and chocolate, which work hard together to rid the body of toxins and improve circulation and skin tone.
The beauty benefits of this scrub are worth noting. Coffee is loaded with antioxidants, which help to prevent premature skin ageing. Chocolate is packed with phytochemicals (nutrients that act like antioxidants that are derived from plants) to help maintain the skin in optimum condition.

This is the perfect skin indulgence for these 
cooler evenings
, and here are the top three beauty benefits of coffee and chocolate:
It helps to minimise the appearance of cellulite
You've probably read accounts of women proclaiming that they got rid of cellulite by using coffee scrubs. Whilst there is no miracle cure, caffeine found in our Cocoa & Orange Body Polish typically increases blood flow, and may reduce the appearance of cellulite and give your skin a more even tone.
It exfoliates dry skin and makes it feel silky smooth. 
While coffee beans may be a bit too harsh to use on your face, coffee bean grounds are a safer option for exfoliating the body. Scrubs should not hurt your skin. Ground down coffee beans are a gentle exfoliant, not sharp or abrasive.
Focus on Stretch Marks
Regular exfoliation is extremely useful for treating a number of skin problems, including stretch marks. Dry, dead skin cells build up on the skin every day, making skin feel rough and look dull. Exfoliating removes this excess build up of skin cells to reveal fresh, new skin beneath. Doing so regularly increases skin cell turnover, which may help your stretch marks fade faster.
Wet your skin and then turn off the shower or jump out of the bath

Starting at your feet, apply the scrub and rub into the skin in circles, spend more time on stretch marks or cellulite areas. Use a pressure that feels firm but not too hard as you don't want to irritate the skin

Once its been applied all over, (if you can) leave it on your skin for 5-10mins to absorb

Rinse off in the shower

We suggest to exfoliate 3 times per week for best results