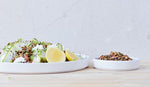 Something about Christmas time makes me want to bake like a boss. This year I'm in charge of entree and also bringing the salad to the table. 
So here's a round up of my favourite salads to crowd please at the Christmas table. 
Zucchini Salad with Peas and Savoury Crumb by Country Road
Shaved Cabbage Salad by Happy Yolks
Roasted Pumpkin, Beet and Barley Salad by Pop Sugar
Pumpkin and Cranberry Quinoa Salad by Little Broken
I'd love to hear what our cooking this Christmas. Let me know in the comments below.
Happy cooking x