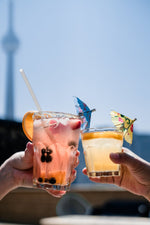 The silliest season of all is upon us. It's a time to enjoy yourself - guilt free.
We all know that the best way to prevent a hangover is to drink in moderation. But sometimes we skip dinner, go straight to happy hour, forget to hydrate, or celebrate that Christmas is coming a little too enthusiatically. And that's OK, because we're human. 
Some of the classic signs? Headaches, nausea, fatigue, and stomach upset—which are all no fun. We've put together a little guide to a hangover.  So here it is, a run down on what you can do (to perhaps) better manage the morning after.
Enjoy every moment of the fun along the way x 
Here are our tops tips for the festive season when it comes to alcohol;
1. Hot-to-cold showering:
This is good. Alternating between hot and cold every 30 seconds while you're in the shower improves elimination, decreases inflammation, stimulates circulation, and helps remove waste from tissues. 

Crave an egg and bacon roll the morning after. Your body knows what it's doing. When you drink alcohol, your liver (with the help of some specific antioxidants and enzymes) breaks down the ethanol into a compound called acetaldehyde, and when there is more acetaldehyde in the body than normal, it causes a lot of the classic hangover symptoms. To counteract this buildup of acetaldehyde, we can turn to cysteine, which is one of the substances that help break down this compound in the body. Luckily, cysteine is present in eggs, which is why poached eggs are the perfect choice for breakfast.
3. N-Acetyl Cysteine (NAC):
Speaking of antioxidants, you're going to want to stock up on them if you're feeling a little slow on Saturday or Sunday morning. NAC will help increase your body's glutathione levels, which is the "master antioxidant" and very important for the health of your liver. You can get NAC in supplement form, and it's also present in foods like garlic and cabbage.
Dry brushing has long been used as a natural detoxification method, as it bumps up circulation and helps stimulate your body's largest organ, the skin, which plays a big role in detoxification. Dry brushing is the perfect remedy to use in combination with hot-to-cold showering.  Here's all you need to know about dry body brushing. 
If you're hung over, you're likely dehydrated but also in need of electrolytes that were lost the night before. One of the best natural sources of electrolytes is coconut water, which contains the five electrolytes found in human blood and is low in sugar, unlike most sports drinks.  PS: Seems so obvious, but make sure you have enough water. My personal favourite rule is one mineral water for every drink.
Try the Gua Sha ritual for your skin. It will promote your lymphatic drainage, release facial tension,  reduce puffiness and add energy back into the skin.  All you need is 3 minutes a day. Get yours here. 
7. Detox your skin:
Detox your skin. The morning after a night on the booze, your skin tends to feel dry like the Sahara and patchy and blotchy - feed it back some nutrients and give it a detox with our Green Clay & Gingko Detox Mask. You'll be shiny and fresh in no time.  Learn more about the benefits of Australian Clay here. 

8. A workout:
Probs  not be what you want to hear, but this isn't the time to skip a workout. Sweating will help you rid your body of toxins and release endorphins, which will help you feel better. Bear in mind, there's no need to hit a 6 a.m. spin class when you're not feeling well; just focus on working up a sweat at some point during the day. Nothing better than working up a sweat to sweat out some of the toxins from last nights session on the D floor. 
I'm keen to hear your go-to remedies for being hung? Let me know in the comments below.  
Most importantly, enjoy every single moment whatever you do.