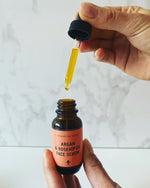 Oh, dehydrated skin: The one skin care woe people tend to groan about on the regular. That's because dehydration spares no skin type—it simply refers to a lack of water in the skin, which anyone (regardless of age, skin texture, or tone) can struggle with. 
Although, dehydrated skin looks a little different on everybody, making it all the more difficult to pinpoint and treat. 
Fret not: There's one foolproof test to determine whether your skin is parched, and it takes a mere minute.  
A quick test for dehydrated skin. 
Behold, the pinch test. Simple, yes, but it quickly reveals what you're working with. Better yet, it works on every skin type, even if you're facing increased oil (reminder: Even if your skin runs oily, it can still lack water!).
The best way to determine if your skin is dehydrated is to gently pinch the skin on the cheek. Then assess: 
Does your skin bounce back quickly and hold its shape? If so, your skin is well hydrated (honourable mention to

 

collagen

 

and elastin, which also helps keep the skin bouncy and firm). 
If your skin stays deflated, even etched with fine lines, that's a sure sign it's dehydrated. "It may not bounce back or may tent up in a wrinkly shape.
From there, you can try the following:
- Get Hydrated.  Water is without doubt the single easiest thing you can do to improve your skin. It is required for transportation of waste and nutrients in and out of skin cells. Dehydrated skin leads to shrivelling of the skin cells, reduced exfoliation capacity and therefore congestion and acne.  Water helps to replenish skin tissues, moisturises skin and increases skin elasticity, plus you'll look younger if your skin is properly hydrated.
- Add in a serum. If you find your skin very dry and dehydrated, you might need to add in additional support, such as a Face Oil. 
- Exfoliate. Moisturiser is much more effective on properly exfoliated skin. Exfoliation helps to remove dry, dead skin cells that can clog pores and make your skin appear dull or lifeless.  They encourage the absorption of creams and are perfect for preparing the face and neck when moisturising 
Remember: dehydration is a temporary skin condition, not a skin type, so it's fairly easy to modulate.