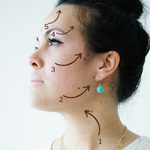 Now if I know my readers at all, I know you are either deeply curious or have already heard the murmurs in the natural skincare community about an ancient ritual making a massive comeback! Yes, you guessed it; today's blog is all about Gua Sha.

Pronounced 'gwah shah', the ancient ritual comes from the Chinese Medicine practice of promoting the flow of 'Chi' (life energy) within our body. Historically, the practice was pretty intense using bone to scrape the body to release stagnant 'Chi'. Luckily, for us, the modern day version feels more like a mini spa treatment for the face, leaving your skin feeling radiant.
The healing technique releases stagnant 'Chi' by promoting better blood circulation and energy flow, which is crucial for your inner beauty. As the saying goes, beauty is more than skin deep, and Gua Sha is a testament to that. By using the Rose Quartz stone to gently massage the face in natural movements, you are literally releasing the stress and tension from your face one stroke at a time. Think of it as Tai Chi for your face. 
The ritual works on the principle that stagnant 'Chi' presents itself in the form of inflammation, dull skin, puffiness under the eyes and even tightness of muscles. By massaging the face with the gua sha you are not only stimulating the skin but you are bringing oxygen to the area.  This will lift, tone and smooth your skin giving you a youthful and radiant look. I'll happily take a side of cheek bones with a healthy portion of collagen any day of week!
With Christmas just around the corner, I can't think of a better time to be talking to you about Gua Sha and launching our Real Beauty Box.  We've combined ancient rituals with natural skincare to bring you the perfect gift to spoil your friends; or better yet, spoil yourself!  Because let's face it, if you are anything like me, you have already gone into over-drive trying to survive the 'Silly Season' and your skin is begging for a bit of Gua Sha action.  
The Real Beaty box contains hydrating Argan & Rosehip Face Serum and Rose Quartz Gua Sha to lift, tone, plump and brighten your skin (with ALL the instrcutions on how to use it) and is available now. You can order yours here. 
And stay tunes, because over the next 2 articles we'll be diving deeper into the benefits of gua sha and discussing the best way to use it. If you have any questions, please comment below x