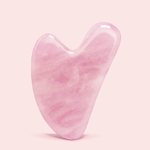 Introducing the Gua Sha (pronounced gwa-shah).
I started seeing this beauty tool pop up EVERYwhere on my Instagram feed, and was a little skeptical about it being the latest 'fad', but after starting to research the benefits; I was pretty impressed, that I knew I had to try the gua sha method. 
OH MY WORD!  I was blown away by the results, so much so, I knew I had to share this incredible little beauty (secret) with you all. 
Impressive results
Even just after one little treatment, there was a visible difference in my face. The faint horizontal lines on my forehead were softer, and both my jaw, cheeks, and brow bone seemed as if they had been lifted.
As well as this, my skin looked radiant – super, deliciously glowy.
And here's everything you need to know about it ... and why you need one..
Boasting claims of bright, improved skin, as well as a 'natural botox,' the tool has been plucked out of the (Chinese) history books and onto the top shelves of beauty obsessives everywhere.
'Gua' means scrape, and 'Sha' means sand. It's a treatment that involves scraping a flat rose quartz stone over the skin in upward strokes to relax stiff muscles and promote tissue drainage.
It stimulates the dermis to support collagen and elastin production, manipulates areas of tension to relax facial muscles, and aids lymphatic flow, releases congestion and toxicity, soothes sore eyes and skin and unlocks aching jaws and brow: resulting in a brighter, healthier, more radiant complexion.  Not kidding. 
By increasing the circulation every day, we start to move waste products out of the skin, which helps to clear out things like blackheads or breakouts. We see a reduction in hyperpigmentation too.
Regular gua sha session can help improve skin firmness, and help your face serums penetrate deeper and work harder. I've been amazed at reults after using it for about 5 minutes a day! 
Benefits of Facial Gua Sha:
Detoxifies the face and moves stagnant blood and inflammation.
Increases blood flow to the face – nourishing the skin.
Reduces fine lines.
Reduces dark circles.
Reduces puffiness.
Relaxes muscles.
Reduces sagginess to neck area and jowls.
Promotes smoother skin.
Brightens and rejuvenates faded skin.
I'm just so excited for you all to try the Gua Sha. 
PRE-ORDER your GUA SHA now in our REAL BEAUTY BOX (containing Argan & Rosehip Face Serum and Rose Quartz Gua Sha) for just $69.95 (normally $74.95).