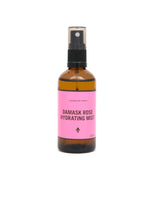 WE HAVE EVERYBODY COVERED WITH A NEW TARGETED COLLECTION
This Christmas we're adding three new luxurious products to our pure and organic skin care range. We are so excited to show you what we have been working on – introducing our new targeted face and body products focussing on hydration, repair and detox.  

Damask Rose Hydrating Mist
Damask Rose imparts a subtle and feminine perfume, and is an all-in-one solution. The precious actives inside Damask Rose Hydrating Mist help to rehydrate and calm all skin types, and are ideal for setting makeup, resulting in a beautiful dewy finish.

Olive & Macadamia Firming Body Oil 
Containing a certified organic blend of floral essential oils and carrier oils, the Olive & Macadamia Firming Body Oil is specifically designed to smooth and support the skin and help prevent stretch marks, keeping skin firm and supple.

Cacao & Orange Body Polish
Our Cacao & Orange Body Polish contains rich moisturising oils, which work together to rid the body of toxins and improve circulation and skin tone. Antioxidant-rich cacao targets cellulite to exfoliate and leave skin supple. 

It is our ongoing commitment to avoid the use of harsh or detrimental ingredients. Our principles remain very simple – we use only the best natural and certified organic ingredients, provide honest expert advice and incredibly effective products.