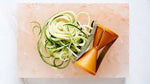 Using pantry staples this homely dish is easy enough to make any night of the week.  The ultimate comfort food, served on a bed of raw zucchini noodles (or go for rice or pasta if you desire), this delicious meal, is packed with vegetables and is bound to satisfy.
This recipe serves about 2-3 people. I suggest that you make more and that you freeze the leftovers. Prepared stews are always good to have around for the times when cooking is not an option. Simple and bold ingredients will hopefully make this recipe a classic in your kitchen. The secret is to use the best beef, the best paprika and the best tomatoes. Trust me, it makes all the difference in the world.

Ingredients:
• Coconut Oil for cooking
• 250gm stewing beef, cut in cubes (choose grass-fed beef);
• 2 medium onions, sliced;
• 1 large garlic clove, crushed and minced;
• 1 zuchini, sliced;
• 1 carrot, sliced
• 2 tbsp paprika
• 2 tsp caraway seeds (optional)
• 1 can chopped tomatoes (fresh tomatoes is even better);
• 1 1/2 cups of bone broth  (if you have some in the freezer, is better than store bought stock)
• Chopped parsley for garnishing.
Method:
Brown the beef cubes in a saucepan with the coconut oil (You can also use a slow cooker, on low temperature)
Put the beef aside and now brown and soften the onions. Add the garlic and carrot and zuchini and cook to soften about 5 minutes on medium heat.
Put back the beef to the pot and add the spices, tomatoes and stock.
Let it cook for about 40mins –ish or until beef is soft and tender