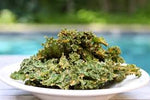 I love these Kale Chips. And there is something about making them that just make you feel so jolly healthy! You can tell Kale is going to be good for you, just by looking at its super hardy and waxy leaves.  It is actually really verstaile and can be used in most dishes to up your green consumption. I love to add chopped kale to my childrens bolognaise sauce (they have no idea, so Mum's the word, yeah?!).  This is the ultimate healthy snack, which feeds your body loads of antioxidants and key nutrients. It really is a super food.
Kale Chips
The trick here is to make sure the kale is completely dried after washing it, or else the chips will come out soggy, and you will have to bake them longer.
Ingredients:
1 bunch kale
1/4 tsp. sea salt
1 tsp paprika
2 tbsp. olive oil

Method:
Preheat oven to 180degrees celsius
Rip kale leaves from stem and into small pieces (do not eat the steam of kale as it is hard for your body to digest)
Wash and dry kale leaves in a salad spinner or paper towel (remember to make sure they are really dry)
Transfer kale leaves to large bowl.
Sprinkle kale with salt and paprika, then toss like a salad.

Distribute the oil evenly on the kale, then toss like a salad.
Transfer kale leaves to a baking sheet in a flat pan, and spread them evenly.
Bake for 15-20 minutes in oven at 180 degC or until kale is crispy.
Remove chips from oven and let cool a few minutes, then enjoy!
You can also season the chips more with salt and/or paprika, according to your taste.