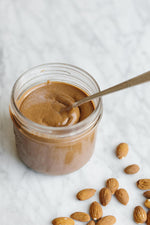 Nuts are high in protein and healthy fats making them an excellent snack on their own to keep you feeling full and your hormones happy. But have you even made your own nut butter (and skipped the expensive versions in the supermarket)?

So good spread on wholegrain bread, a piece of fruit, or straight off the spoon!
To make nut butter, roast the nuts in the oven on a high temperature for approx. 10 minutes, or until they've started to brown. Let the roasted nuts cool until they are warm, not hot (trust me, don't hurry this step!! Please wait til they have cooled down!)
Place the nuts in a food processor and process on a high speed until desired consistency is reached. 
Remember to be patient when making your nut butter, the nuts will chop very finely, then start to get oily and clump up before you start to see a nut butter consistency. Stop the processor and scape the mix from the sides every few minutes.  If the processor or the mixture start to get too hot, wait for it to cool before continuing to process. 
PS: if you have a @vitamix lucky you, because it'll take you about 1 minute! 
Nut Butter base options:
- Almonds
- Brazil Nuts
- Cashews
- Macadamia
- Walnuts
- A combination of some of above 
Optional additions:
These are a few things you can add to your but butter base to change the flavour, consistency or nutrient profile. Add whatever you like after you have processed to your desired consistency:
- Cinnamon
- Himalayan Sea Salt
- Maple or brown rice syrup
- Chia seeds
- Hemp seeds
- Vanilla
- Cacao powder