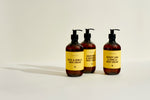 The 6 benefits of Body Cream
Sure, using a Body Cream is great for your dry legs and arms, but also one of the easiest ways to pamper yourself and help you relax. 
Massaging your body provides many benefits to people who make time to use it on a regular basis.  I've started using it more regularly and am loving the benefits; 
1. Re-hydrate dried skin.
Body Cream, applied after each shower or bath, can help to seal moisture deep in the skin to keep it hydrated and supple. 
2. Replenish extra dry or rough spots on the skin.
I love a barefoot Summer, but it can leave your feet dry and your heels hard and calloused.  Even if your normal skin type is oily or normal, you might have rough areas on your body, like around the elbows or knees or feet that could benefit from skin lotion applications after a bath or at bedtime. 
4. Feel and smell good.
Who doesn't love the feel of creamy lotion on their tired limbs or torso? Enjoy the relaxing sensation of cream applied to your feet, legs, or arms.
5. Help yourself relax.
Even if your skin is in great shape and does not need to be moisturised with cream, the minutes to apply your body cream after your shower can help unwind and relax you. What a wonderful gift to yourself if you're feeling tired and worn down.
6. Make your skin glow.
When you look after yourself, you will glow from the inside out. Of course, check the ingredients to make sure they are safe to use, and non irritating.  All our Body Creams are paraben free and can be found
here