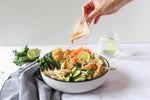 I've been trying so many new recipes in ISO. And last night I tried this Gado Gado Bowl by my friend, and fellow Nutritionist, Elly McLean. Oh my word, this was so delicious and the whole family loved it. I served up the tofu for my hubby and I (we always do meat-free Monday) but my girls had some left over chicken in their bowls (they are not fans of tofu). I love this recipe because it's so flexible with what you can include in terms of veggies (I didn't have chinese cabbage, so I subbed that for some red cabbage I had in the fridge). 
Huge thanks to Elly for sharing this recipe with us. Elly is a holistic nutritionist
specialising in LCHF and plant based
nutrition
for digestive health and athletic performance.   You can find her
here
 on instagram.   
Do yourself a favour and make this dressing at least x 
Gado Gado Bowl
Ingredients (Serves 2)
100g green beans
250g chinese cabbage, finely shredded
½ cucumber, thinly sliced
1 carrot, grated
handful beanshoots
handful coriander leaves, roughly chopped
300g organic and non-GMO tofu
1 tbsp Extra Virgin Olive Oil
1 tbsp peanuts, roughly chopped
2 small potatoes, quartered (cooked ahead of time if possible)
Peanut dressing
The juice of 1 lime
1 clove garlic
1 red chilli, to taste
3 tbsp chunky peanut butter
150 mls coconut milk
1 tsp rice malt syrup (I didn't include this as I didn't have any)
3 tbsp coconut aminos (I subbed this for extra virgin olive oil) 
Method
Heat oil in a large frying pan. Cook tofu for a few seconds on each side until starting to brown. Transfer to a plate and let sit.
Add potatoes to the pan and cook for a few minutes until starting to brown. Set aside with the tofu.
Meanwhile, bring water to boil in a saucepan add the beans and let cook for 2-3 mins until just tender. Drain and set aside to cool.
To make the put peanut dressing, place all ingredients in a blender and blend well.
Place beans, cabbage, cucumber, cabbage, coriander and potatoes in a large bowl. Add ½ the dressing and gently combine until the veg are coated.
Divide the salad between two bowls. Top with tofu, drizzle with remaining sauce and top with bean shoots and peanuts.