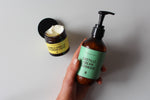 So, I need to set the record straight. It's not very pleasant news, but you need to know this. If someone tells you they can "shrink your pores," they are actually not speaking the truth.  You can't shrink your pores. 
Your pore size is genetically determined by the size of your pore glands. But, there's good news; we can purify the pores, which can help to  diminish their appearance.
Pores enlarge as we get older, and they also enlarge if they're filled with gunk (old makeup, pollution etc).  So this is your *gentle* reminder of the importance of using products with good ingredients, and of course, going to bed with a clean face. 
What causes blocked pores and congestion?
Blocked pores, blocked skin, uneven texture and white heads are all signs of congested skin.
Oil – The oil that your skin naturally produces can clog and get trapped under the surface. Especially if there is an excess of oil that isn't flowing freely through the pore this will lead to clogging.

Dead skin cells – Slow cell turnover is the biggest contributor to blackheads in pores.  Solution, you need to include a scrub 2-3 times weekly, and you can learn more about scrubbing your bod for soft skin here. 

p-bacteria – You've all heard of beneficial bacteria for your gut. Well, the same applies to your skin. The bacteria that causes acne is called p-bacteria, but it behaves a little differently in different people. So in some people this p-bacteria contains "not desirable" strains associated with pimples and in other people "desirable" strains that may protect the skin. That's why we developed our Jojoba & Camellia Cream specifically for oily / combination skin, because it contains green tea (camellia sinensis) which helps the proliferation of healthy bacteria on the skin. 

Pollution and waste – Living in an urban environment we are constantly assaulted with pollution and dirt that flys through the air. It's impossible to prevent every bit of dirt adhering to our skin and adding to the congestion, which is why cleansing at night is so important. 
Makeup – If you're not using a mineral makeup that allows your skin to breathe then it can often suffocate your skin adding to oil and causing congestion. Makeup tends to get imbedded into the skin making it feel bumpy under the surface. Without a thorough exfoliation this can be hard to shift.
Here's what you can use to make pores look smaller naturally:
1. Keep a great cleansing routine
Be diligent about your cleansing morning and night. Always wash your makeup off at night and then cleanse the skin again to get it clean. Using a natural non-stripping cleanser that won't irritate the skin or cause more oil to be produced.
Clay acts like a magnet for toxins, pulling harmful ingredients out of the skin. Aim for a clay mask once a week.
3. Exfoliate regularly
Congested skin is sluggish and cells find it harder to shed properly, getting trapped. Exfoliating regularly, 2-3 times a week is necessary to keep the skin clear of excess cells sitting on the surface. This will also lift any excess makeup embedded in the skin.
4. Hydration, hydration, hydration
Drinking more water is the single most important thing you can do to improve your skin. 
Your skin will look younger when it's properly hydrated.
Water helps to replenish skin tissues, moisturises skin and increases skin elasticity. You need to drink at least 1.5 - 2 litres of pure water each day.  Aim to drink at least 1L of water before noon.
By enlisting these habits, your pores will look like they've begun to shrink, even though they actually haven't; but most importantly your skin will be healthier adding to that gorgeous glow. 
PS: Do you want glowing skin?  
If you'd like to do something positive for yourself (during lockdown), finally rid yourself of skin problems and find abundant energy, then I invite you to join me on a 30-day challenge to clear and glowing skin – starting Monday September 21st.
 Over 30 days, you'll learn how to read the messages your body is sending you via your skin, and how to rectify your issues for optimum vitality and glowing skin.  You can learn more about it here.